What's new in TL: February 2022
Happy February, everyone! Over the last month or so, we've seen a big growth in the TradingLite's community. We've surpassed the stage of "that niche app that nobody knows" to something recognizable across the whole crypto community.
Anyway, we're testing a new format for bringing you up-to-date with latest developments of TradingLite, so let's dive in!
Website redesign

We've updated our website style and added overall consistency in preparation for some new and exciting additional features and areas.

After showing a lot of love to the TradingLite app itself throughout the majority of last year, we thought we'd give the website a bit of TLC also.

Whether its getting some help via Help & FAQs, adding a new Feature Request or having a browse through our Learning Center and LitScript Reference, we wanted to ensure navigating the website is a quick and easy as our beloved charts.
Updated Learning Content

As TradingLite's feature set grows each month that goes by, it can be easy to miss an update or new feature, particularly given how volatile the market has been the past few months.

We always update our docs to reflect changes to TradingLite, however some of the pages were getting lengthy so we've split these down a little.

Updated images, copy and short video tutorials have been added to ensure both new-comers and veterans of TradingLite can gain value from them.
Although current users may be familiar with the majority of what TradingLite has to offer, you may have missed some nifty functions and features, so have a quick browse through the Learning Centre to make sure you are utilising the full range of tools and customisations available!
Redesigned LitScript docs

Although the content remains the same, we've redesigned the LitScript documentation pages to be a little more pleasing on the eyes, along with syntax highlights for all code examples.
App updates

Ignoring the performance improvements and minor changes here and there. We've added two new power user features.
Right-click menus
Finally the right-click has some use! Adding right-click menus everywhere gives TradingLite a more native app feel and allows easier access to various options.
Command Palette
This is one of the features that's always been part of the "Next" version but it was locked away from our users. Although TradingLite has a pretty great support for keyboard navigation, hitting that Tab key until you get to the right action can be time consuming. This feature allows you to simply type your action and execute it!
This is only a start, we plan on making this feature even more powerful in the future. If you have any suggestions then please let us know.
Multiple charts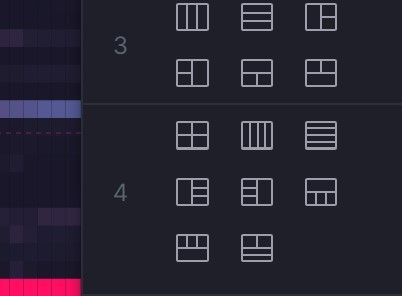 So far this has proven to be stable with our private testers, we're on the brink of doing final tests and adding some fundamental features. If all goes well, ideally by the end of this month, we'll release this feature to everyone.
New pairs

45 new pairs have been added in this update. As usual, we have taken suggestions from the community, and they have been added, providing they have met our internal criteria of sustained liquidity, volume and market capitalization.
Binance:
CRVUSDT, HBARUSDT, HNTUSDT, MANAUSDT, MINAUSDT, ONEUSDT, ROSEUSDT

Binance Futures:
HBARUSDT, MANAUSDT, MINAUSDT, ONEUSDT, ROSEUSDT

Bitfinex:
AVAXUSD, SOLUSD

Bitmex:
SOLUSD

Bybit USDT Perpetual:
ADAUSDT, ALGOUSDT, ATOMUSDT, AVAXUSDT, BCHUSDT, BNBUSDT, BTCUSDT, DOGEUSDT, DOTUSDT, ETHUSDT, FTMUSDT, FTTUSDT, LINKUSDT, LTCUSDT, LUNAUSDT, MATICUSDT, NEARUSDT, SHIBUSDT, SOLUSDT, TRXUSDT, UNIUSDT, XLMUSDT, XRPUSDT

Coinbase:
AVAX-USD, CRO-USD

FTX:
AR-PERP, CRO-PERP, HNT-PERP, MANA-PERP, ONE-PERP
But, when FTX spot? 🤔

FTX spot is still within our plans, but unfortunately is taking a little longer than expected to implement. Don't worry, all the critters at TradingLite are working on it and it will be released as soon as possible.
Recent coordinated attack

On 10th January 2022, we have have experienced an unusual amount of traffic which had saturated our bandwidth, which slowed down the whole platform for everyone.

Although our services are well-protected against DDOS attacks, this attack made use of hundreds of new trial accounts which were created in a few days prior to this incident. Each one of those accounts were continuously requesting data over and over again in a very aggressive manner.

Noticing something was amiss, shortly before users started to contact us, we managed to mitigate this attack in less than few hours. The only part that was affected during this attack was the latency between our users and our servers.

There's been no data breach or theft of data as a result of the attack, nor did cyber criminals infiltrate the network – they just overwhelmed it with web traffic.

The timing of this attack coincided with the large BTC move, so we can only assume that attacker's goal was to disrupt our service during this period of volatility.

We reinforced our infrastructure and temporarily reduced Trial access limits.

Perversely, the targeted nature of the attack, validates the value that can be be derived from TradingLite. We've made further improvements to ensure that a similar attack in future, will be effectively mitigated against.
Final notes

This month has seen some ups and downs, but mostly ups! Over the last few months, we've been working on some very exciting new features which are almost complete.



Indicator of the month

Sometimes it's mind-boggling to what users make with LitScript. Here's an indicator called "Cyberpunk 2k22" by ViK, it draws a glowing TradingLite logo. Amazing stuff.