2022 Review, Future Plans + First Updates of 2023
So before we start with our review and future plans (yes, we will get to the super-awesome-surprises for the start of the year in just a moment) we would like to extend our well-wishes and love to all of you for making 2022, our most successful to-date ♥ 🚀
Looking back at 2022 on TradingLite

Well… where to begin? 2022 was a pretty eventful year in the crypto world, unfortunately more often than not, for the wrong reasons.

In contrast, 2022 has been an exciting year for the TradingLite community. Filled with new tools, features and extended market coverage. Most importantly, our best asset, the TradingLite community, is stronger than ever.

Let's look back on our top highlights over the past year!
Split-View Charts

What is better than looking at 1 TradingLite chart? Looking at 4 of course!

Early on in the year, we released our much anticipated Split-View update. This brought you the ability to view up to multiple markets simultaneously, all whilst maintaining the silky-smooth TradingLite experience.
Order-Flow Tools

Our community's clear favourite of year, the addition of our new suite of Order-Flow tools were extremely well received.

This update brought a total of 4 entirely new layers, with big improvements to 3 existing layers. Keep reading for one final update for these released today!
Layout Templates

With all the new tools and their possible configurations, we recognized the need to be able to switch between a variety of different styles of analysis.

With our Layout Template update, you can now save up to 10 unique templates across each of your workspaces.
Standalone TradingLite App

Those preferring the look and feel of a native app, were treated early on in the year to TradingLite's very own Standalone App.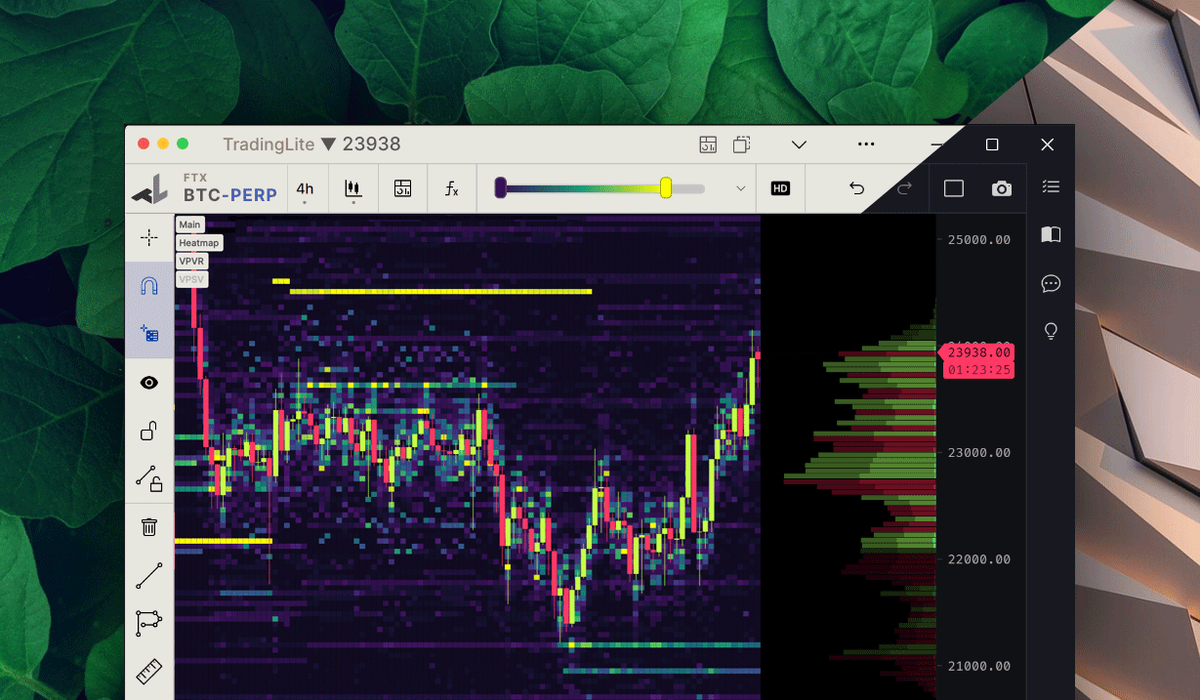 Receiving multiple updates with extended window management and functionality throughout the year, the TradingLite app is available across a range of devices.
Multiple Order Book & Trade Panels

Previously, when using the Split-View function, only one respective instance of the Order Book and Trade Panel were available for you to use.


Whilst preferable in some cases, we felt each chart deserved the option to have it's own instance of both panels. In our previous update, we added this functionality, allowing you simultaneous cross-market comparison.
Plus so much more...

If we listed each new change and improvement that took place this year, it would be time to start writing our 2023 review!
Other honourable mentions include; 30+ drawing tools, over 100 new markets and exchanges, feature unlocks for silver plans, numerous performance improvements, all wrapped up in a brand new website and App redesign.
Our 2023 Plans

Having reviewed all of the suggestions and feature requests from our community, we've internally distilled this to refine and prioritize our plans ahead. The following is a non-exhaustive list of what we hope to achieve in 2023.
Aggregated Heatmaps

Building upon our much-loved heatmaps, the ability of aggregating across markets has been our most requested feature to date. Rather than rush to ship this in a quick update, we are taking our time to ensure its performance is good as our current non-aggregated implementation.

We also want to make sure power-users have the flexibility and customizability that this huge extension to our heatmap tool will provide. This includes the ability to independently configure the aggregated data. As you can imagine, this is no small task, but we will ensure this is delivered in a future update.
LitScript V2

As our community continues to grow, so too has the collection of unique indicators built with LitScript, TradingLite's very own scripting engine. As quick reminder to those maybe unfamiliar, LitScript gives you easy access to construct your very own tools and indicators, utilising our wide range of supported market data.

From new in-built functions that aim to extend whilst simplifying the LitScript development process, to multi-market comparison and aggregation, LitScript V2 is well on its way to release. Understandably, this is one of the most complex aspects of TradingLite, but as they say, good things come to those who wait!
Alerts

You've got your trading methodology honed on TradingLite, now you just need to be alerted when your parameters have been triggered. Perhaps you want to set an alert to then manually make an assessment, or perhaps you want to adjust an order on exchange via an exchange's API.

Spawning, managing, triggering and re-setting/deleting, literally thousands of small compute units on the fly, whilst ensuring minimal latency is the task at hand. This also includes accommodating variety of delivery methods. Alerts will be an iterative process over time, but something that will be a core focus of the TradingLite team in 2023.
New Unique Tools & Features

Planning, building and delivering best-in-class tools and features is at the forefront of TradingLite development. We already provide a whole suite of tools officially, plus an infinite number of indicators written and shared by our community (more on that in a moment). Building upon this will be a key aspect of 2023.

Although we can't reveal too much at the moment, they will be game-changer for both your trading and TradingLite as a whole. We are super-excited so make sure you stay informed by following our Twitter.
Core Functionality Improvements

Not everything has the same immediate shine as some of the other planned additions as above. Nonetheless, improvements to the core functionality of TradingLite as a charting platform are just as important to your day-to-day trading. One example we are working on is templating for drawings and layouts. Another is market specific configurations.

We have and continue to value your feedback to make TradingLite the best charting platform is can be. With each new tool or feature comes both feedback and room for improvement. 2023, as with every year since, will be another year of refinement and enhancement 🚀
First Additions in 2023

Ok we've, kept you waiting long enough, time time to announce our first two additions for 2023.

Wait… There is more than one?

Oh yes, we are starting 2023 in style 😎
2x Order Flow Granularity 🚀

After our well-received Order Flow Update, we noted that the granularity, particularly with some non BTC or ETH markets, required an increase. to fully maximise the utility of these fancy new tools. So, shortly after, plans were set in motion to deliver upon this.

Striking a balance between detail versus noise, whilst maintaining a desktop class experience across any device with a browser, was our main hurdle. However, through some optimizations of both our back and front-end, we've achieved a 2x increase in granularity across all of our Order-Flow tools.

This includes:
All 4 of our Footprint and Footprint + Layers

VPSV Layer

Both VPVR and VPVR+ Layers

TPO / Market Profile Layer
All order-flow data, both historical and future, will benefit from this improvement. Also, these changes we've made under-the-hood lays part of the groundwork towards some of our most requested features. Stay up to date over on our Twitter
Ku-Coin Futures 🚀

Following on from our last update that introduced Ku-Coin Spot markets, we explained that their Futures markets will follow shortly after. We are happy to start 2023 by adding these markets to TradingLite.
KuCoin Futures Pairs

KuCoin Futures: ADAUSDTM, ATOMUSDTM, AVAXUSDTM, BNBUSDTM, XBTUSDTM, DOTUSDTM, ETCUSDTM, ETHUSDTM, FTMUSDTM, MATICUSDTM, NEARUSDTM, SOLUSDTM, XRPUSDTM

We've added a selection to match the spot pairs that were added previously. As usual, if there is a market in particular you would like us to support, add a suggestion to our pair request page.
Ku-Coin Liquidation Data 🤷🏼‍♂️

Unfortunately, Ku-Coin does not publish liquidation data, across any of their futures markets. Therefore, any indicators that require this data will limited. When we asked why this is the case, they said it was something they would be looking to add in future.
Final Thoughts

Once again, we would like to extend our thanks to all of you who have joined us over the past year! Whilst 2022 has been a successful year, it will be a distant memory when compared with 2023! 🚀