Redesign, Layout Templates, Features & Refinements
Following on from our much-loved Order-Flow update, this latest iteration of TradingLite is chocked full of new features, new markets, refinements and some minor bug fixes!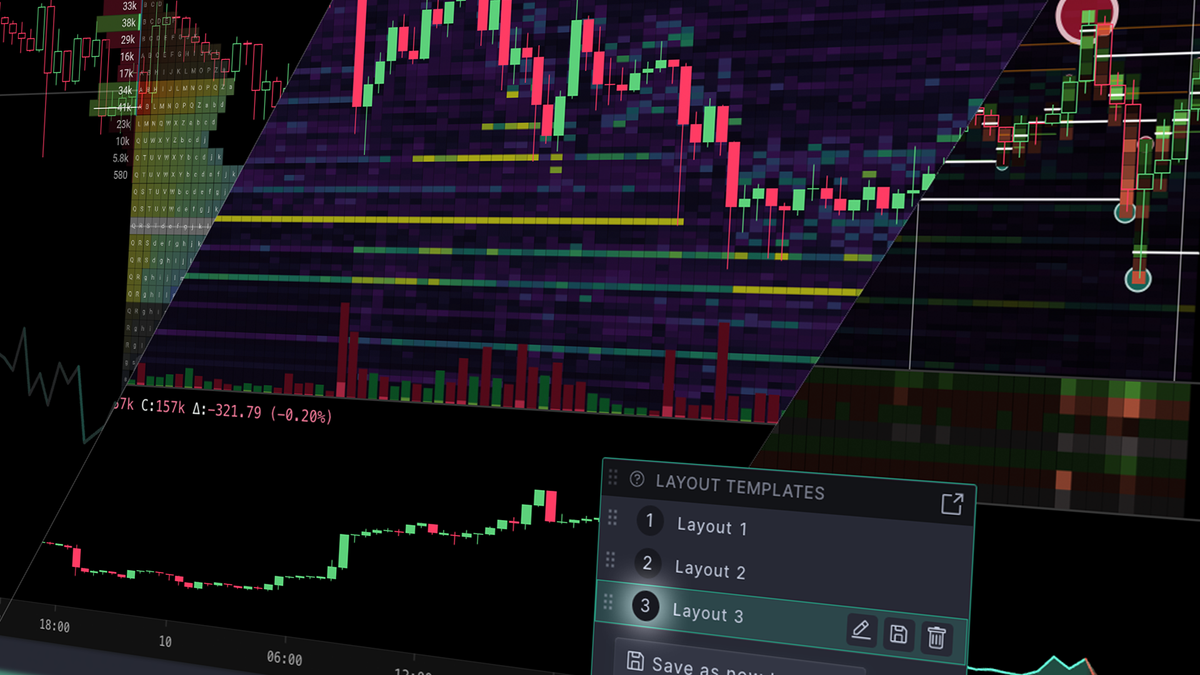 Speed and flexibility is at the very heart of this update. So, without any further ado, let's dive in!
TradingLite Redesign

November marks the 1 year anniversary of the launch of TradingLite Next, the full, from the ground up rebuild from our original humble beginning. To mark this occasion, and to complement the range features released since (and those planned in the future), we given the UI a fresh feel, filled with new functionality and quality of life improvements.
Market Selection

Whether you are a Bitcoin maxi or scanning for the market as a whole for the next breakout, browsing between markets is with speed and efficiency is critical. Therefore, we've redesigned the market selection window (yes it's now a dock-able window) to ensure organizing and navigating between trading pairs, a breeze.
In future we will look to expand upon and enhance the Market Selection window to ensure it's a valuable staple of your workspace.
Drawing Tool Favourites

Back in February, we added over 30 new drawing tools to TradingLite within our Chartist Update 👨‍🎨. Whilst this welcome addition saves you drawing on other platforms, having certain tools behind an extra click was unnecessary. Therefore, as of today's update, you now have the ability to favourite and re-order your drawing tools ensuring that they are within easy reach in the drawing toolbar!

Simply open the drawing tools selection button, favourite and then re-order to suit your preference. No more extra clicks, no more drawing elsewhere.
🔬
Don't forget to check out our Drawing Tool article within the learning area, providing you with a full explainer of each tool.
Dock here, there, everywhere

Whilst the ability to dock each component of your workspace was always part of our vision for customization of TradingLite, certain new features showing up as popup panels after clicking them couldn't be docked or moved elsewhere.

Today's update brings the ability to dock virtually anything, anywhere.
Need quick access to your favourite markets? Dock it.
Want to switch between different Split-View setups? Dock it.
Want to switch between your different Layout Templates? Dock it.
Need a reminder of your Heatmap Settings, along with the unit value of a market? Yep... dock it.
Oh and by the way, now you can have different docked windows setup per workspace!
Layout Templates 🚀

As both our catalog of both community and official indicators expands, there are an endless number of combinations in which to conduct your market analysis. Previously, Workspaces were used to save these unique chart layouts.

Today, we are thrilled to announce the Layout Templates feature. This powerful feature, gives you the ability to switch between multiple chart layouts, with just a single click!
With up to 10 unique slots, your Layout Templates will be available across all of your workspaces. This ensures your pre-defined methods of analysis are just a click away, all whilst remaining within your workspace. The speed and flexibility provided by Layout Templates ensures your nimbleness, particularly in periods of volatility within the market.
Activating Layout Templates

Layout Templates is an experimental feature, which can be enabled in our new App Config window, within the 'Experimental' section. In this new window, you can find some settings that existed in the TradingLite logo menu, some older experiments that were hidden, and eventually it'll contain some of our upcoming features that you'll be able to try out early if you're a subscriber.
To activate Layout Templates, either:
Press 'k', select 'Experiments' and toggle 'Layout Templates' on

TradingLite logo > 'App Config' > 'Experiments' > 'Layout Templates'
---
For a refresher on Workspaces, Layouts & Templates see the dedicated article within the Learning Centre.
Multiple Order Book & Trade Feed Windows

If using the Spilt View function, you were previously limited to one singular Order Book or Trade Feed window. This would mean clicking on a particular chart, in order to view its respective Order Book and Trade data.

From today, you are now able to 'duplicate' and 'link' these windows to a market you are currently viewing. This allows you to view data simultaneously across the markets selected within your Split View.
As shown above, this allows you to make quickly and easily perform detailed comparisons across various market's real-time Order Book and Trade Feed data, in parallel.
Activating Multiple Order Book & Trade Feed Windows

Although relatively stable, multiple windows is currently an experimental feature. To activate Layout Templates, either:
Press 'k', select 'Experiments' and toggle 'Multiple Trades & Order' on

TradingLite logo > 'App Config' > 'Experiments' > 'Multiple Trades & Order Book'
Duplicating Windows

To duplicate a window, click the three dots in the upper-right, and select 'Duplicate Window'.
Linking Windows

To link a window to a particular market within your Split View setup, click the dedicated 'Link' button. You will then be presented with a dropdown to select which chart you would like the window to be linked with.
For detailed explanations of both the Order Book and Trade Feed windows, see the respective learn pages.
Refined User-Experience

This update comes with a very long list of improvements and bug fixes. Rather than hide them in the changelog, we've selected a few note-worthy mentions.
Drag Handles

Quite few things could've been drag and dropped, whether it's for sorting or moving them from one place to another, but it wasn't always clear or obvious, especially for mobile users since this functionality didn't work for all devices. Now it does, and not only that but we've placed a special icon near any item where you can perform this action.
View on Chart - Drawings

See a drawing within your Drawing List, but can't actually locate it? Open the context menu and select 'View on Chart' to zoom into it's location.
Device Synced Light/Dark Mode

We've added system preference setting inside our new App Config window, for those who want to match TradingLite's theme scheme to their current device's setting.
Reduced Motion Preference

Users with vestibular disorders often desire animation motion to be kept to a minimum. TradingLite now respects this choice and we replace our animations with static ones. Currently, this only works if you've enabled this on your device's system settings, but if you would like for us to add a dedicated option inside TradingLite then let us know.
Plus so much more...

We've selected and showcased a few of our favourite highlights of our refinements, for a full list (including a list of some rare pesky bugs that have been squashed), see the changelog, in-app.