February 2023 Update
TradingLite's latest update brings you new markets, new features, visual improvements, increased workspace slots & some minor bug fixes. There is quite a bit to unpack within this update, so without further ado, let's dive in! 🚀
Binance COIN-M - Inverse Perpetual Markets 🚀

Whilst TradingLite's support of Binance's spot and linear (USDⓢ-M) perpetual markets continues to grow, inverse perpetual markets (COIN-M), were unfortunately absent from the market menu.

That changes today! We are excited to announce our first initial batch of Binance (COIN-M) inverse perpetual markers are now LIVE on TradingLite!
---
Binance Futures (COIN-M): ADAUSD, BNBUSD, BTCUSD, DOGEUSD, DOTUSD, ETHUSD, LTCUSD, MATICUSD, SOLUSD, XRPUSD
---
As these markets are traded via contracts, you find the value of 1 contract via the Heatmap dropdown. For quick reference, other than BTCUSD (1 contract = $100), all other markets above are: 1 contract = $10.
New Binance USDⓢ-M & Spot Markets

In addition to the new inverse perpetual pairs listed above, we have also expanded our support of addition Binance Spot and linear futures markets:
---
Binance Futures (USDⓢ-M): CELOUSDT, ENSUSDT, JASMYUSDT, LDOUSDT
Binance Spot: 1INCHUSDT, CELOUSDT, ENSUSDT, JASMYUSDT, LDOUSDT
---
As part of TradingLite's commitment to continue to improve market coverage, we are in the process of finalising our next batch of market additions. Providing your market suggestion meets our sustained liquidity requirements, we will endeavour to add it in the future.
Delisted Markets 🗑

The following markets are being delisted in this latest update. This reflects their delisted status on the exchange itself.

Binance (Spot): FTT-USDT & HNT-USDT

Binance Futures (USDⓢ-M): CVC-USDT, RAY-USDT, SRM-USDT

Bybit (Linear Perpetuals): FTT-USDT, LUNA-USDT, SOL-USDT

OKX (Qtly Futures): BSV-USD
Order Flow Layer Additions 🚀

6 months on from our much-loved Order Flow update, we've distilled your feedback and made some additions along with some performance improvements to each of our Order Flow layers.
Footprint Volume Thresholds 🚀

Both of our Footprint '+' layers, Footprint Cluster + & Footprint Profile +, now allow you to add a Volume Threshold value. Enabling this will highlight each row of the footprint, in which the total volume exceeds your given threshold.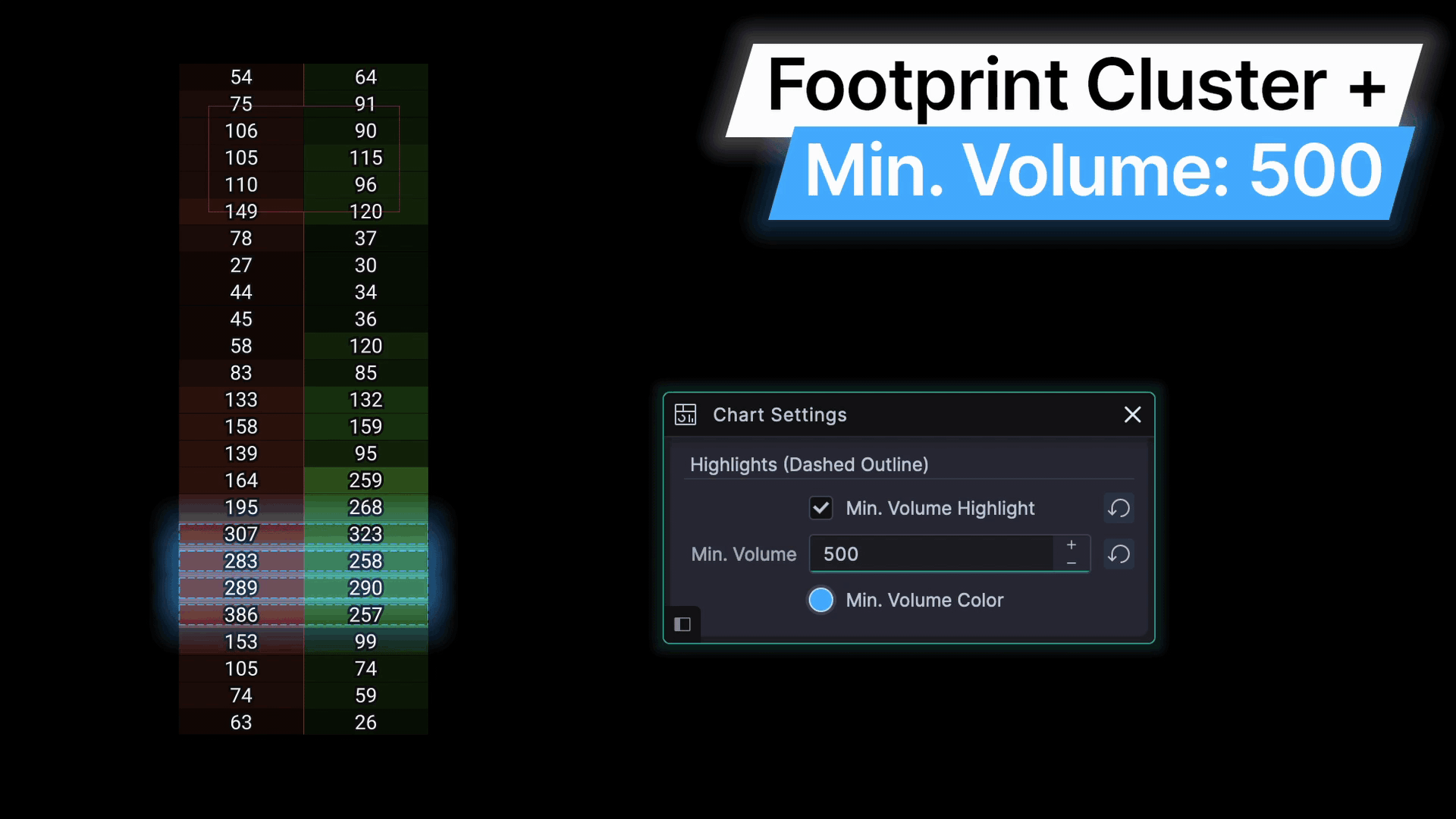 This is especially valuable when in Delta Mode, as a visual indicator of high volume, and therefore by extension, high interest by market participants at that particular price point in time.
Note: Regardless of delta value itself, if the total volume of the row exceeds your minimum volume threshold, the dashed visual highlight will be rendered.
Header Values 🚀

Although key data points of our tools have always been marked visually, having the raw values available with just a quick glance is far more convenient.
VPSV & TPO / Market Profile Headers

Both VPSV and TPO layers now have their own dedicated headers!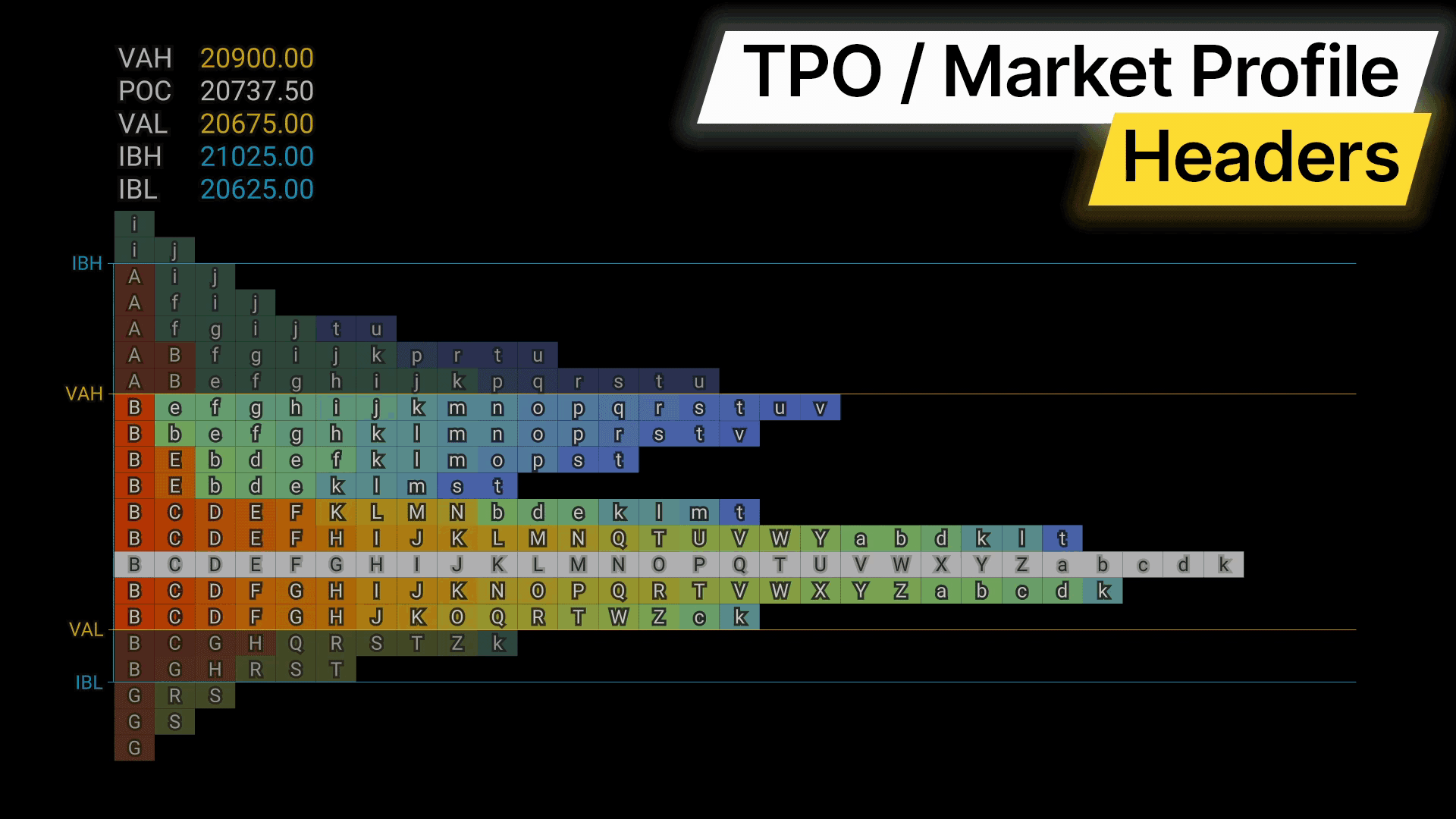 VPSV:

Delta Volume

Total Volume

Value Area High (VAH)

Point of Control (POC)

Value Area Low (VAL)

TPO / Market Profile

Value Area High (VAH)

Point of Control (POC)

Value Area Low (VAL)

Initial Balance High (IBH)

Initial Balance Low (IBL)
All of these label's visibility is toggle-able, and can be re-ordered to suit your own preferences!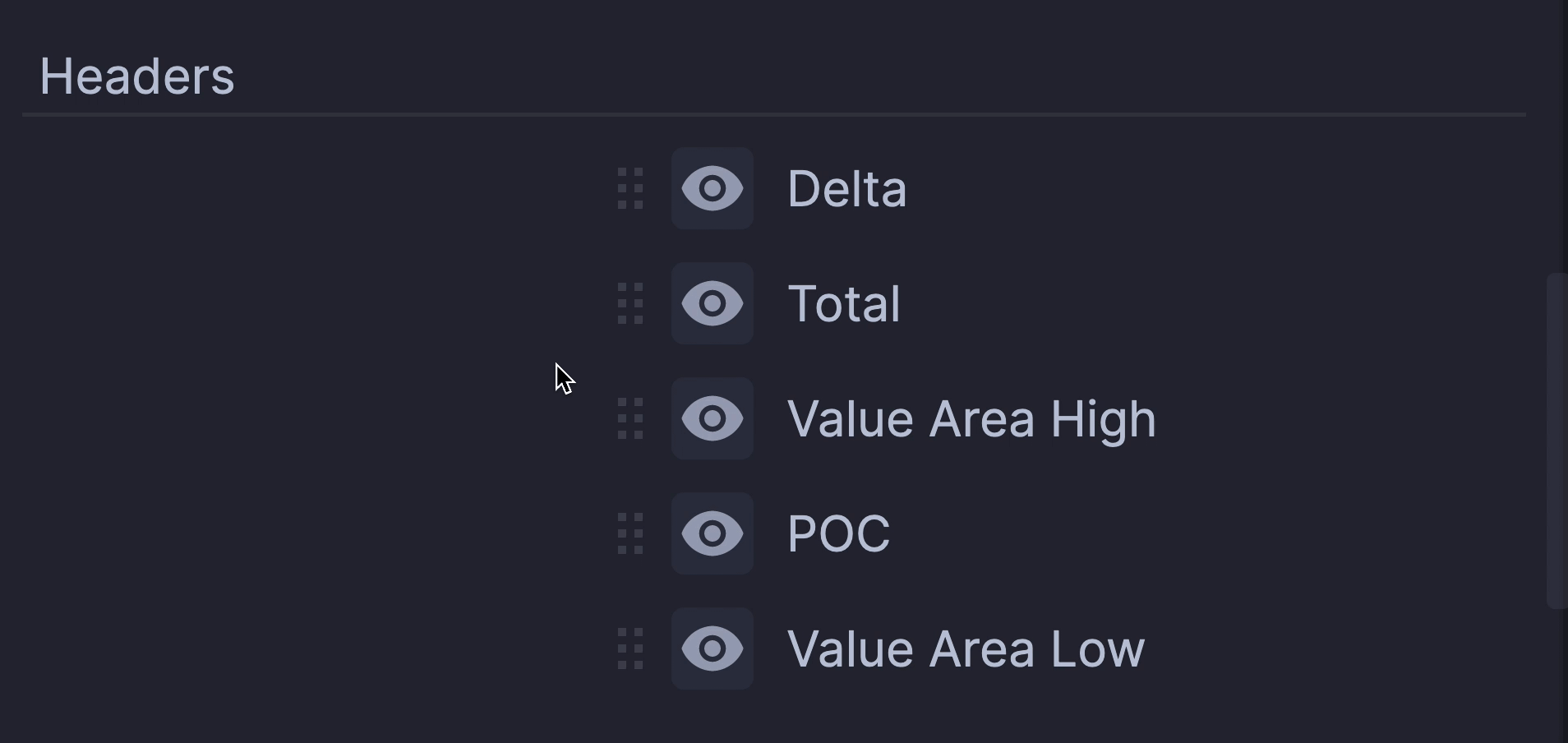 One quick note: As these labels are tied to the data point they represent, ensure that their respective toggle is also enabled. EG the Point of Control header will only be displayed if the Point of Control itself is enabled within the layer's option. This logic is also applied to the header colors.
Footprint + Headers

As with the new session profile headers shown above, the Delta & Total Volume headers, (available within our Footprint Cluster + & Footprint Profile + layers) can also now be both toggled, and re-ordered.
Configurable Value Area Brightness

The final addition to our Order Flow layers is the ability to configure the overall brightness of the Value Area. This new setting will help those in particular who prefer a visual distinction between rows inside and outside of the Value Area.
Re-styled Numerical Data Points 🚀

To visually accommodate the new additions listed above, particularly when used in combination with the Heatmap, we have subtly re-styled the rendering of numerical data points.
Every value that is rendered within the chart's foreground has a new visual outline. This should increase readability across a range of tools that require numerical data points to be rendered.
'Experimental' Status Removal

In our final update of 2022, we revealed two major new additions to the platform, Multiple Order Book & Trade Feed windows!

With the infinite possibilities and combinations that these new additions unlocked, we initially marked both as 'Experimental'.

We are pleased to announce that both of these features have been well-received and now form an integral aspect of many of our users' trading toolbox.
Multiple Order Book & Trade Feed 🚀

Fast becoming a staple of many TradingLite user's arsenal of tools is the new Multiple Order Book / Trade Feed panels.
Duplicating and linking each panel to one of the markets within your Split-View provides you detailed insight to multiple markets concurrently.
Increased Workspace Slots 🚀

As the TradingLite platform continue to grow, so too does the need to stay organized. This update increases our Gold subscribers' workspace limit to 10!

As a gentle reminder, Workspaces are a core concept of TradingLite, helping to keep your favourited markets, chart types, drawings and much more segregated from each other. Ensure you are fully utilizing Workspaces, Layouts and Templates with our in-depth guide:
Minor Bug Fixes

With each new update comes the squashing of bugs. You know the drill, for the full list of those pesky bugs that have been fixed, plus the full list of all additions and improvements, see the changelog in-app. See you there! 🚀



What's next?

This update is laying the groundwork to some major new additions coming your way. Although we can't quite reveal just yet, we're excited to share them with you all very soon! 🔥